Takafumi Koike (Hosei Univ.)  and Yasushi Onishi (OPTCERAMICS, Ltd.)
We have developed a retroreflective optical device (Oz panel) for realizing an aerial imaging display with a long protruding distance.
Optical Characteristics

Principle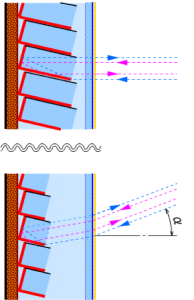 We arrange a rectangular corner reflector array like a figure. By changing the aspect ratio of the corner reflector array depending on the in-plane position of the optical device, we can realize aerial imaging with a long focal length (jump-out amount).
Example System

References
Takafumi Koike and Yasushi Onishi, "Aerial 3D Imaging by Retroreflective Mirror Array," ACM ISS'18 International Workshop on Computational Augmented Reality Displays. (2018.11) (ACM DL)
Takafumi Koike and Yasushi Onishi, "Aerial Light Field Display by Retroreflective Mirror Array," IDW'18 .(2018.12)
Takafumi Koike and Yasushi Onishi, "Aerial 3D Imaging with Long-Distance by Retroreflective Mirror Array," IMID 2019. (2019.8) (Invited)
Takafumi Koike and Yasushi Onishi, "Principle and applications of aerial 3D imaging with long-distance by retroreflective mirror array (Conference Presentation)", Proc. SPIE 11402, Three-Dimensional Imaging, Visualization, and Display 2020, 114020N, Online. (2020.04) Presentation (Invited)
Takafumi Koike and Yasushi Onishi, "Long Viewing Distance Aerial Display and Its Application Technologies," 3DSA 2021, Online. (2021.11) (Invited)
Exhibition
SIGGRAPH ASIA 2021, Tokyo (2021.12)
Contact
takafumi (at) hosei.ac.jp
onishi (at) optceramics.name